St. Luke's Medical Center, Milwaukee WI
The Wiselives Clinic was designed using feng shui, the ancient Chinese philosophy of creating a positive flow of energy through a harmonious and balanced environment. Factors such as acoustics, color and lighting as well as the placement of doors, windows and furniture all influence our relationship with and reaction to our surroundings; thereby affecting our emotions and health.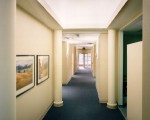 There is no practical way to avoid a long hallway in health care facilities. The energy that races down the hall is called "secret arrows" or "sha", bad chi energy. We slow down the momentum by having as wide a hall as possible. A tray of light in the center of the hallway where the nurses' station is located disperses and breaks up the energy. Sconce lighting widens the space. Art work with depth and perspective opens up the walls and brings in nature. The soft colors and round pillars help create a bright friendly atmosphere.


This treatment room is giving the doctor a commanding position but the desk faces the wall. To allow the doctor to see behind him/ her we put a picture with a reflective glass that also opens up the space.