Typical Taoist garden plants: peonies, day lilies, orchids, hollyhocks, mulberry, magnolia, yellow chrysanthemums, bamboos, hydrangeas, roses, water lilies, fruit trees (apricot, peach, cherry, crab apple)
Central pool containing koi
Paved area at entrance to house
Raised flower beds containing chrysanthemums at the front and peonies at the back. Flowers are usually grown near buildings in rounded rectangular beds, often either raised or sunken
Lilies growing in pots
Stone flagged path to pavilion
Roofed pavilion with latticework screens in the sides with larger openings from which the pool and the artificial hills can be viewed
Plum trees
Stones bridges with stone lanterns on pillars at each end
Artificial mounds of earth with rough boulders projecting from the earth (you can create these from the earth dugout to make the pool)
Wisteria planted between boulders
Pine trees
Open-fronted pavilion or "dry boat" projecting over edge of water for viewing the pool
Hydrangea bushes
Water lilies at edge of pool only, so as not to obscure the view of open water.
All the elements of the great Taoist gardens can be scaled down to suit a smaller space. This garden incorporates all the elements of a classic Taoist garden.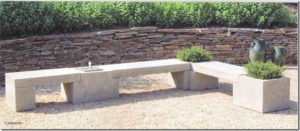 Zen Benches photo from Rademan Stone and Landscape Fond du Lac, WI
From Spring 2019 newsletter