As we know, it's been a brutal winter in the Midwest. We deserve a wonderful, early Spring. Let's reinforce that thought with the Three Secrets Reinforcement* and hope for the best. There will be no Spring cleaning tips this year. You did your cleaning for Chinese New Year, right? If not, no matter. It's time to go outside and watch the snow melt. Many of us crave reconnecting with nature. We crave being outside to feel the healing sunshine. If you wish, you can start planning a garden or window box or plan a trip to the Botanical Gardens.
Create a Taoist Garden
Typical Taoist garden plants: Â Â  peonies, day lilies, orchids, hollyhocks, mulberry, magnolia, yellow chrysanthemums, bamboos, hydrangeas, roses, water lilies, fruit trees (apricot, peach, cherry, crab apple)
Central pool containing koi
Paved area at entrance to house
Raised flower beds containing chrysanthemums at the front and peonies at the back. Flowers are usually grown near buildings in rounded rectangular beds, often either raised or sunken
Lilies growing in pots
Stone flagged path to pavilion
Roofed pavilion with latticework screens in the sides with larger openings from which the pool and the artificial hills can be viewed
Plum trees
Stones bridges with stone lanterns on pillars at each end
Artificial mounds of earth with rough boulders projecting from the earth (you can create these from the earth dugout to make the pool)
Wisteria planted between boulders
Pine trees
Open-fronted pavilion or "dry boat" projecting over edge of water for viewing the pool
Hydrangea bushes
Water lilies at edge of pool only, so as not to obscure the view of open water.
All the elements of the great Taoist gardens can be scaled down to suit a smaller space. This garden incorporates all the elements of a classic Taoist garden.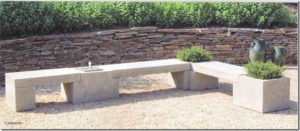 Zen Benches photo from Rademan Stone and Landscape Fond du Lac, WI
REVIEW : CHINESE MEANING AND SIGNIFICANCE OF TREES, PLANTS
Acadia – stability
Apple – feminine beauty, peace
Apricot – fair sex, slanting eyes
Azalea – fair sex
Bamboo – filial piety, youth
Chrysanthemum – mid-autumn, joviality, the rising sun
Cypress – royalty
Jasmine – fair sex and sweetness, friendship
Lotus – summer, fruitfulness
Magnolia – feminine sweetness and beauty
Mulberry – industry, the comforts of home filial piety
Narcissus – rejuvenation, good fortune for the coming year
Oak – masculine strength
Oleander – beauty and grace
Orange – presented at Chinese New Year betokens abundant happiness and prosperity for the New Year
Orchid – love and beauty. It stands for fragrance and refinement, numerous progeny – the embodiment of the perfect or superior man, endurance
Palm tree – happy retirement
Peach – marriage, immortality and springtime friendship
Pear – emblem of wise and benevolent administration or good government, longevity, justice and purity
Peony – love and affections symbol of feminine beauty, omen of good fortune
Persimmon (date plum) – joy
Pine – longevity; metaphorically, friends who remain constant in adversity
Plum – winter, beauty and youth
Pomegranate – posterity, numerous virtuous offspring rising to fame and glory – fertility
Rose – beauty
Stone – reliability and hardness
Willow – Spring, Buddhist symbol of meekness, fair sex, waistline
* Three Secrets Reinforcements – body, mind and spirit (mantra, mudra, meditation) remember?