Feng Shui for the Holidays
This is the time of year when many of us give our homes some special holiday attention to support the festive mood and welcome family and guests to our homes. While it takes a lot of time and energy to bring out the decorations, the energy the place gives back can be almost magical and that is very good feng shui. The traditions that get passed down to the next generation though special ornaments, the spiritual energy from angels, nativity scenes, the star of David make a memory of home that will last long after they are put away. Here is a partial list of some feng shui compatible decorating.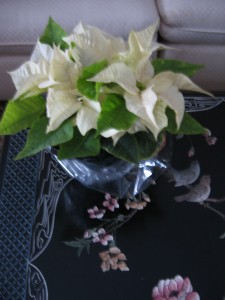 Enhancing the entrance (mouth of chi) with lights, wreaths, red decorations) also brings attention to your career area.
Adding bells (a primitive burglar alarm) to the front door lets you know when the door is opened. Go ahead and leave a bell all year, if you wish.
Displaying holiday cards from family and friends is supportive (helpful people).
Adding the smells of pine, candles and extra baking cookies is what makes holiday memories. Remember feng shui appeals to all the senses. The sense of smell is one of the most memorable.
Adding tactile items like pillows, wrapping banisters and corners with garlands gives a cozy comfortable nurturing feeling.
Rearranging furniture or filling in empty areas with trees and presents can be a temporary change that brings variety and appreciation to your home. (Maybe you are relieved when you get things back the way they were.)
There are really only a few cautions to keep in mind while decorating for the holidays.
FIRE comes from candles – Advent or Hanukkah or ordinary – or overstressed electrical outlets, etc. The pine boughs and trees (wood elements) will then fuel the fire. Christmas colors of red and green add to the intensity. The blues of Hanukkah sooth it.
Remedies: Water in any form – blues, blacks, fountains, aquariums, snowflakes, snowmen can help put out the intensity of fire. Fire is the emotion of anger and excitement. Metal (tinsel garlands) as well as some earth, elements (pottery, clay statues, etc.) brings better balance of the feng shui elements at this time.
Please be careful of the fire element.
The other caution is that of excess – too much stuff lying around (also known as clutter) can block the chi and possibly the traffic patterns through the house. The extra stimulation creating blockages or overloading the senses in the environment can be overwhelming for sensitive children (and adults). These things won't be there for long and they will prepare you for making the temporary changes for the year of the dragon to come. Enjoy your home during the holidays!
LUNAR CALENDAR
November 24th, Thanksgiving, was when the planet Mercury turned retrograde (until December 13th). This means: Keep your sales slips and ask for gift receipts because gifts bought now may need to be returned.
Look at the positive side of this retrograde time of miscommunications and mechanical breakdowns. There is an element of reflection and reviewing in a retrograde that can be very thought provoking and helpful. Your intuitions and dreams are very powerful now.
November 25th – New Moon and Solar Eclipse – a time to start new projects. Eclipses add extra long lasting energy
December 10th – Full Moon and Lunar Eclipse. Finish a project
December 13th – Mercury goes direct. Now you can finalize plans, etc.
21st – Hanukkah begins
22nd – Winter Solstice
25th – Christmas
26th – Kwanzaa
28th – Hanukkah ends
31st – New Year's Eve
January 9th – Full Moon
January 10th – begin removing 2011 temporary cures from your home and offices.
Clients and students may ask for (by e mailing me) and start installing the
temporary cures for the year of the Dragon.
January 23rd = Chinese New Year of the Dragon begins. More about how the New Year will affect your Chinese animal next month.