May 8th – Happy Mother's Day to all the moms
May 17th – Full Moon — finish a project
Feng Shui Tips for Spring Cleaning
Mother's Day or not, this is a good time to get rid of clutter. In case you wonder what that is, let's define clutter:
What is clutter?
Items that are not in their proper places
Items that you no longer need or use that are taking up valuable space
Items that you don't even like – gifts
Things you are holding on to that stagnate your every move because they serve no purpose. You don't love them or need them.
Stopped or stuck energy = clotted like packed closets.
Dictionary says, "to litter or pile in a disordered state" is to clutter.
Useful things that don't belong where they are = messy, out of place.
Anything unfinished – mental, emotional or spiritual = clutter
Caused, in some cases, by a mental condition = hoarder's syndrome
Now that we know what it is, let's clear the clutter and restore the balance and bring in positive energy.
How do you clear a place?
First, apply the basic bagua template over your entire house. For example, what's in your wealth area (back left corner) that may be affecting your finances? What's in your relationship area (back right corner) that doesn't belong there? Is your health area (center and center left) blocked or in disarray? Etc..
If the clutter is overwhelming, choose the area in your life that you would like to change most and start there. Thinking about what you want in that area of your life as you clean that area of your home is an important part of the process.
Then finish each area by empowering your changes with the "Three Secrets Reinforcement". This will make your adjustments between ten and 110% more effective.
Open up the doors and windows on a breezy day and let the stale air out.
Waft good smells around -like sage or incense or candle burning – to clear out the bad vibes.
Do the "Tracing the Nine Stars" ritual with your family to set your goals for your home.
Have a professional house blessing ceremony (feng shui, a priest, rabbi, or shaman) to change the energy and bring in good luck to your house.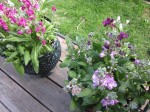 This months' Feng Shui Focus – Floors
Do you have a shoeless house? Many, maybe most, of my feng shui clients don't wear their outside shoes inside their homes. This is particularly important Asian concept of home cleanliness. Why bring in the dirt from the garden or the yucky stuff and germs from the city sidewalks? Shoes are left at the door in a rack and house slippers are put on. Once you get into the habit of taking off your shoes, you will wonder why you did it any other way. Besides, my chiropractor tells me that going barefoot is a good thing for the spine and skeletal health.
Floor Facts
What you put on your floors is important, too. In feng shui we are look at the elements and colors of a floor (earth – tile, stone and concrete, hardwood – wood, etc.)
Placing area rugs in key positions, especially in garages, patios, porches, entrances, will catch some dirt and help the floors. Inexpensive circle rugs (about 3 feet diameter) in various colors placed to meet your footsteps can pave the way.
It's very important to get rugs with good backing that won't slip.
Clean and/or change out your rugs this Spring. You can add an entire new look to a neutral space just by changing what is on the floor. Just as you may have different bed linens for winter and summer, you can have wool rugs for winter and something lighter for spring and summer.
Don't forget to rotate your good Asian carpets and area rugs to keep the wear and sun exposure more equally distributed.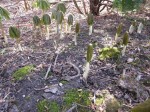 Have a Merry May.