LUNAR CALENDAR
July
1st – Mercury went direct
12th – full moon
26th – new moon
August
10th – full moon
25th – new moon
September
8th – full moon
24th – new moon
25th – Rosh Hashanah begins
Create a Taoist Garden
Typical Taoist garden plants are:
peonies, day lilies, orchids,
hollyhocks, mulberry, magnolia,
yellow chrysanthemums, bamboos,
hydrangeas, roses, water lilies,
fruit trees ( apricot, peach cherry crabapple)
Taoist features to incorporate into your yard:
Central pool containing koi fish
Paved area at the entrance to the house
Raised flower beds containing chrysanthemums at the front and peonies at the back. Flowers are usually grown near buildings in rounded rectangular beds, often either raised or sunken
Lilies growing in pots
Stone flagged path to pavilion
Roofed pavilion with latticework screens in the sides with larger openings from which the pool and the artificial hills can be viewed.
Plum trees
Stone bridges with stone lanterns on pillars at each end
Artificial mounds of earth with rough builders projecting from the earth ( you can create these from the earth dugout to make the pool)
Wisteria planted between boulders
Pine trees
Open-fronted pavilion or "dry boat" projecting over edge of water for viewing the pool
Hydrangea bushes
Water lilies at edge of pool only, so as not to obscure the view of open water.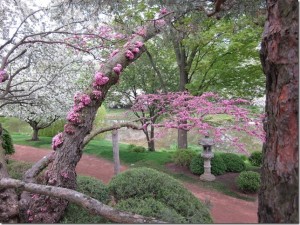 Feng Shui Enhancements for your Garden
Light – lamps or garden torches illuminate a dark or missing area. A gazing ball or reflective object will imply a missing space is there. A "moon gate" in a hedge will energize a dark corner and create another entrance.
Sound – use nature's own sounds when possible – birds, rustling plants, trickling water, etc. A metal wind chime will activate any stuck chi energy.
Color – If you want to focus on a particular area of your life, use the representative color in that area of your yard or garden. For example, put red in the fame area of the bagua (South). Put white in the children's area (West) see the basic bagua.
Life force – improves by encouraging wild life, especially birds. Adding a birdfeeder, for example, could benefit the Helpful People area. Also try adding fish to a pond.
Movement – Consider the natural motion of Wind and Water as useful tools/ Remember that water features should be kept in proportion to the situation, not overwhelming. Weather vanes and swaying plants can also be stimulating.
Mechanical Devices, electricity and batteries help extend nature's movements. Pumps move water as wind moves ornaments and lightweight items.
Heavy still objects such as statues, stone and brick, will add stability to an environment. For greater impact, chose things that have relevance for you. Zen would be a limestone rock, or you may prefer large urns or statues with special meaning, frogs, angels, etc…..
Straight objects such as fences, pathways, pergolas lead the chi from one place to another and make a grand entrance. While we want to avoid "poison arrows" (chi that moves too fast) sometimes we need to aggressively direct the energy for a good energy flow.
FENG SHUI TIP: If you could use something cheerful to bring back good memories, bring back an old painting or picture from the past and hang it up on the wall for a while. Every time you walk by it, those happy times will enter your conscious and sub conscious mind. Some of us rotate our artwork to keep things fresh and make positive changes every now and then.