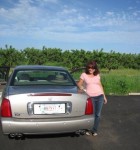 Calendar of Events
Congratulations — You survived another Mercury retrograde. It went direct May 11th. (Next retrograde not until August 20th.)
May 27th – Full Moon, finish a project or something
June 12th – New Moon, start a new project
June 21st – Summer Solstice
June 26 – Full Moon and Lunar Eclipse
Here are some feng shui ideas you can apply to your home away from home – your car.
Feng Shui Tips for Travel
Organize your car

Water – room temperature still quenches thirst
CD's to keep you awake or calm you down or inform you (educational)
If you take snacks, add an absorbent lap cloth and/or a roll of paper towels
Take multi-tasking items for passengers who get bored in construction zones (It took 3 hours to cross the Canadian bridge and get back into the United States on Memorial Day)

Every time you leave the car, take accumulating garbage with you
Drive carefully and with the compassion of Buddha
Before you leave home, visualize that you have a safe trip. Put a crystal or symbolic object in the helpful people/safe travel area of your home. This is the bottom right corner on the floor plan of the house.
Choose your hotel room carefully. Check it out before you take your luggage there.

Is it in a noisy traffic area with ice makes, transformers, air conditioners and elevators?
Can you avoid having a mirror at the foot of the bed?
Air out the room – check on drafts, air conditioner vents.
Is the bed in a commanding position or your best direction (if you are staying there for very long, this could be more important.
FENG SHUI FOR THE GARDEN
Trilliums and Fiddleheads of emerging ferns are only two of the many Spring wildflowers that bring a native natural influence to your yard. When choosing colorful annuals, think about the direction in your yard where you are putting them. The color for the south is red, north is blue or black, west is white, east is green foliage . In the center of your plantings, the yellows and earth colors dominate. Add a rock or yellow marigold. This year the NW also benefits from the earthly colors, but not the SW where a wind chime or metal ornament will reduce negative energy.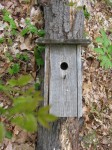 Do your birds have a nice wooden home? My new wren house without a perch has a new family. The hole is the size of a quarter so the cow birds could not get in, despite numerous attempts. Next year consider putting out a bird house.
It was great to see some of you at the West Bend Health Faire last month. We will soon have the custom feng shui car crystals and crystal hearts as well as other products available here on our website.