In the Tao te Ching, Lao Tzu says:
"We pierce doors and windows to make a house;
And it is on these spaces where there is nothing that the usefulness of the house depends.
Therefore just as we take advantage of what is, we should recognize the usefulness of what is not."
Recovering our empty space
We need to find our empty useful space. It's Spring time – time to fling open the windows and run out the doors to the places where there is nothing… but grass, a few trees and lots of open space. "Cabin fever" is a malady past.
For over two decades now, Feng Shui Design News has been doing annual Spring cleaning rituals and dealing with space clearing topics such as defining clutter, where is clutter, what is the impact of clutter where it is, how is clutter affecting us, how can we get rid of it once and for all.
Is the clutter gone yet? No, Clutter is still the number one concern for most home dwellers. Clearly we need a new approach.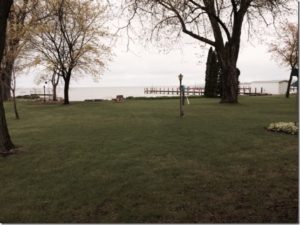 The History of Stuff
Historically we can see how our great, great grandparents (add more greats if you are young) grew up in the depression where they had very little so they valued what they had and the next generation was able and proud to acquire more. As we became more affluent, we brought home more and more stuff. Meanwhile our time to deal with the stuff diminished. The clutter remains, accumulating in closets, corners and everywhere and anywhere there was an empty flat surface space – worst case scenario – the hoarder channel.
Fortunately the trend is changing among those who grew up endowed with too much. They don't value stuff partly because they have never been without it. They are going to the midcentury modern style with built in furniture and a minimal attitude regarding accessories. For many, the necessities and accessories they do want and need they would rather buy at a resale shop than get from their families.
Older family members who want to downsize are using resale shops to sell their treasured heirlooms. Much to their dismay, the value and price of these items has diminished considerably because the demand isn't there or the supply is too great because so many are trying to downsize or empty out elders' homes as they leave. Many chose to donate to charitable organizations so their treasures will live on and recycling will help the environment.
The Psychology of Stuff
So we think we love our stuff. In feng shui we surround ourselves with symbolic items that trigger our minds to remember our goals and aspirations. It could be crystals or inspirational writings put on the bathroom mirror or a money plant, etc. Using our places to help manifest our goals is a big part of feng shui. Don't get rid of all the stuff but once these items have served their purpose, it is good to remove them and make way for the next challenge.
Think of the house as being an ever changing place that supports whatever we want and looks forward to our next goal. Our house is a canvas for the next painting, the next adventure. The home grows with us. It shows the seasons. It brings the outdoors in. If your home is stagnant for too long, the cracks will begin to show. Keep the energy moving. Don't give clutter a chance to accumulate. Rather let your home reflect your family and your life as a work in progress growing and changing, supportive and nurturing. Keep it fluid and vibrant.
When I was "neutralizing" my house as it went on the market for sale, I was surprised that the emptier the place became the more free I felt. Of course, at first, I thought, well, I certainly can move now because this is no longer feels like my home. But on another level, I felt the possibilities and excitement of the open space. There was so much room and I didn't miss the missing stuff. Try it.
Is Lao Tzu a Minimalist?
Once again, Lao Tzu can explain a void, a place where nothing is. We need open space with nothing in our way in order to function most efficiently. Walking into walls, stepping over laundry baskets, restricting your motion to avoid knocking over or stepping on stuff creates tension in the body and even chronic constipation and diminishes the usefulness of a house.
According to Lao Tzu :
He who obtains has little
He who scatters has much
To have little is to possess
To have plenty is to be perplexed
The Lunar Calendar
May
3rd Mercury goes Direct
10th – Full Moon
14th – Mother's Day
25th – New Moon
Chinese Significance for Plants
Bamboo = youth
Narcissus = rejuvenation
Orchid = endurance
Peach = friendship
Pear = longevity
Peony = wealth
Pine = longevity
Plum = beauty & youth
Pomegranate = fertility
Rose = beauty
Tangerine = wealth
Willow = grace